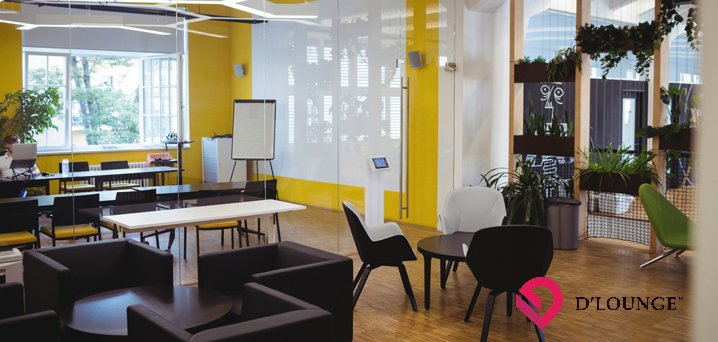 A Jovial Place to Work
Let us start with the definition for the word "OFFICE"

"A room or building used as an area for commercial or professional purpose"

Now say how would you feel working in a dull and lifeless environment? Hope we can't even call that space an office. It is imperative that when providing a workspace, we should let in the good vibes to get the employees to settle in a positive and relaxing atmosphere. Apart from the fine and aesthetic surroundings, an office interior must speak out for your brand and services. The notions have changed from considering interior design for office as an unnecessary expense to a much-required process. Hence there is an indeed increase in demand for interior design works in offices. In today's post, we talk over a bit of interior design ideas for offices.

Green is still in trends
Green is the colour that can let go of your anxiety, depression, and nervousness. The colour can bring in hope, compassion and harmony in you. Yes, this healthiest colour is still on the list of hot trends. Add the more of it into your office walls and floors. Of course, the nature-oriented appearance can bring the charm you desire.

Right palette mixes
Colours make more noise than words. They are capable of influencing your soul. So never end up with a single colour. The atmosphere in a cabin differs from that of a reception area. Make the right choices for colours that soothe well to the area. The wonders it can make is incredible.

Let the design speak for brands
Make the designs custom made indicating your brand, products and values. The visitors in your office feel a hearty welcome when your interiors volunteer for your brand.

A milieu for workers
Yes, the workers are not just a physical being with potentials to work. They are a more human being with emotions and feelings. The designs are considered great when they provide the workers with a profound atmosphere to spend their time on.

The classy, professional, and commercial interior helps in increasing productivity and leads to organizational growth. When representing your brand and services immense care and caution is a must. Hence only deal with professionals. Even petty changes they make can create miracles in your office. D'LOUNGE has the finest modern interior design ideas than can suit with all office dimensions and budgets in pretty variant styles. Next time when need an office to be designed or renovated, see what D'LOUNGE have with them.
November 30, 2019, posted by
Admin