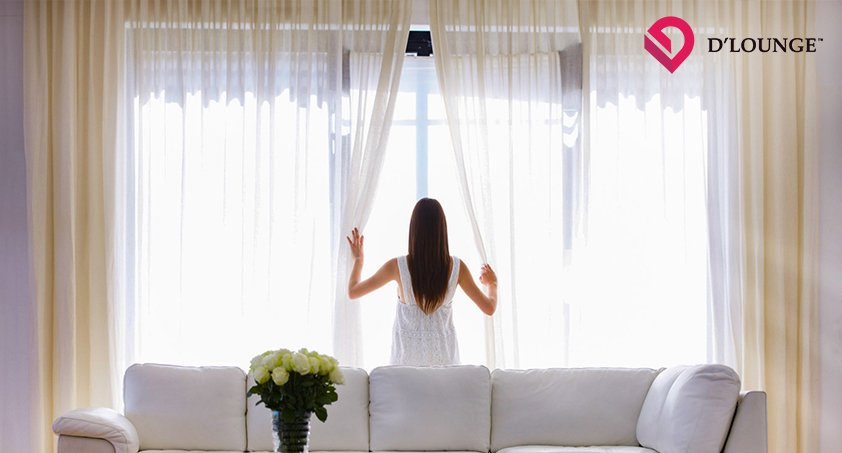 Keep up According to the Latest Designs and Trends
Curtains and blinds have always been an integral part of our home design and has contributed immensely to the outlook of the home. It basically serves as a source of privacy to our homes and also acts as controller by preventing direct sunlight from entering our rooms. They have always provided a sense of elegance and finishing to our homes. D'LOUNGE presents before you some of the tips that are to be considered while choosing curtains and blinds for our homes.

Always consider the room

When choosing curtains, it is important to consider the arrangement of the room and It's structure
.
For example-A Living Room must have a refreshing and a welcoming approach. So, it is important to choose curtains with lighter shades so that maximum sunlight reaches the room.

Such details must be kept in mind while selecting the curtains for your room in-order to give it an exemplary feel.

Apt Choice of Color and Fabric

Fabric is an important choice while selecting the curtains for your room and it will dictate how well the curtains will function and hold over a period of time.

Similarly, the color of curtains are selected in accordance with different rooms.

Length and Lining

Always make an appropriate measurement while selecting curtains & blinds for your room. As the famous designer Lawrence Cunningham once said

"Hanging panels higher than the window will give a sense of height to the room".

Such guidelines are necessary in giving your room a majestic approach. Inorder to obtain a modern look, the panel flushes with the floor. Meanwhile for a traditional look, the curtains will be slightly puddled to the floor.

Choose safe and easy to handle blinds

In homes where there are infant babies, it is always important to choose a cordless style of blind in-order to avoid accidental cases of strangulation.

Ensuring Cleanliness and varied decorating styles

Blinds don't require professional cleaning and the dusting can be made easier by having a 360 degree duster. Such amenities can enhance the beauty of the shades and helps it to have a refreshing and a cleaner outlook.

Use Layer Curtains with blinds and shutters

If you are the one who is passionate about light and breezy curtains and want to create a sense of luxury to your room.
Give light and neutral colors in order to obtain subtle and elegant look. These ideas can give your room a wider appeal and wider approach.

It is very important to consult an experienced and skillful designer while choosing curtains for your room. D'LOUNGE has managed to become one of the top interior designers in Kerala due to it's expertise in providing home solutions for customers at nominal rates. Have quality discussions with your designer and choose a viable design with D'LOUNGE.

April 04, 2020, posted by
Admin