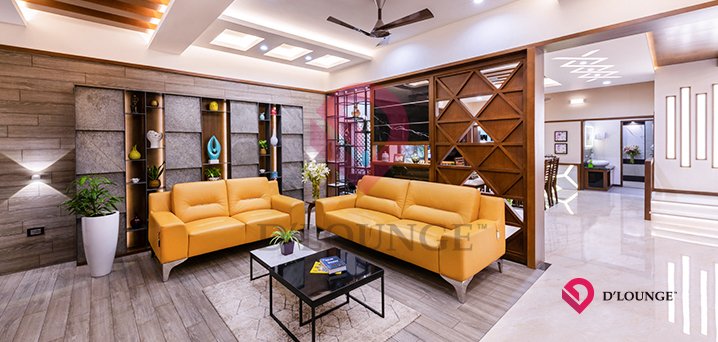 Notions to Model your Living Area
Living rooms are not anymore a guest greeting room filled with just furniture to sit and talk. The perceptions about living room have changed a lot. More than making the space to be a warmed welcome area, the inmates are trying to make it a room free from all hustles and bustles. When the designing comes into the communal heart of your home, it should be both functional and aesthetic. Only the best designs can hold up the balance in your mind and soul while providing a calm and quiet area to do anything you want.

D'LOUNGE has a few keynotes to discuss in this post, which could make you all set to design your living area. Alexandra Stoddard the very famous interior designer who have authored more than 25 books quotes

"Make Every Room a Living Room"

Her quotes signifies it all on how perfect your living area is and how balanced it should be is.To make it well designed and to bring that balanced life see on the following portion of the blog before you start the designing works.

Practical design

The designs tailored for you should function well with you and all surrounding you. Living in a design where you got everything from beautiful carpets to wallpapers, but not syncing with your lifestyle is hectic. The designs should be practical and functional. When having kids designing with fragile and delicate pieces can be ignored to add on more space for them to move around is appreciated. Make the designs function with you to make the sole purpose complete.

Predetermine the style

Whether you choose to follow with contemporary, traditional, rustic, scandinavian, asian, tropical and whatever it may be, let us see what matters more. The British interior designer Kelly Hoppensays that

"What matters more is how it feels than what the style is."

Yes, that is exactly true. Choosing what style you need for designing is a key factor. However, what matters more is not the style for sure. What bothers is how you feel in there. The styles you could choose from the too-long list should make you feel good. Only then the design serves you well.

Good seating

A living room can be technically defined as

"A room for general everyday purpose"

So obviously comfort has the topmost priority. And the point is to invest brilliantly on your sofa any time you might need to do it. Certainly the color, fabric, and textures matter, but they matter more to the design. Coziness is what matters the most to the one who sits there. Make sure you make the right place to sit on.

A practical, stylish and comfiest living room is a challenging one. But D'LOUNGE helps you fix everything you could stumble upon to make it possible. Using the 3D designs and 3D rendering services D'LOUNGE visualizes you what the outcome is. Say what you want and we the best interior designers in Kochi are here to help you out.
December 18, 2019, posted by
Admin